A couple years ago, I stumbled upon a gallery that was displaying the late artist, Sergey Smirnov's, work. I fell in love with this painting and wanted it so badly I was seriously considering saving my pennies for years and years until I can scrape enough together to buy her.
Once a year or so, I research
Alina
on the internet to find a gallery that carries the limited edition canvas print just to see if I still like it as much. So far it has staying power.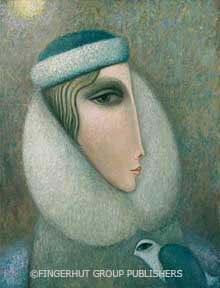 Sometimes when I find a gallery, I go so far as to give them a call to check on the price This year I figured with the economy and the California location of the gallery, the painting/print might be at its lowest price ever. Sadly, it was still not under four digits, so that is ridiculously out of my price range. I don't actually know what my price range is for a painting because I've never spent more than $100 on artwork.